Your ads will be inserted here by
Easy Plugin for AdSense.
Please go to the plugin admin page to
Paste your ad code OR
Suppress this ad slot.
Insomniac was with the PS3 from day one. If you owned a PS3, you pretty much had Resistance: Fall of Man, or Ratchet & Clank: Tools of Destruction in your game collection.
Tools of Destruction, or ToD as it quickly became known, is a standout title, even to this day. And if I'm honest, its absolutely my favourite outing for the Lombax and Robot duo. Numerous play-throughs later, you're left wanting more.
About two years later, we finally get another taste of the R&C-F franchise in the form of A Crack in Time.
Story
Those that missed the Quest for Booty conclusion would have missed Dr. Nefarious' involvement, but suffice to say, he is the arch-villain of this title. With grand plans of controlling time – thanks to the 'Great Clock' (hilariously coined as 'a device at the center of the universe – give or take 50 feet'), Nefarious demands control of the Clock. We soon learn that the key to this plan is none other than Clank himself.
Ratchet continues in his quest to search for and ultimately reunite with Clank, aided by the always enjoyable Captain Qwark – and a new NPC to the story, Azimuth. Their goal not only to find Clank, but to prevent the obliteration of time itself.
Game play
With A Crack in Time, Clank earns himself a whole new armada of game play mechanics. Now able to manipulate, or slow-down time to some extent, new puzzles are created focusing on this new dynamic. So, fast moving platforms for example that previously would have been off-limits, now grant access to new areas with a flick of a wand.
Additionally, Clank encounters time pods that allow him to record up to a minute of user-inputted action, in order to project holographic iterations of himself for the purpose of performing multiple actions and solving extremely complex puzzles that require more than one input at different locations at the same time. Yup, its a mouthful – and it actually is as complicated as it sounds.
The puzzles in Clank's sections begin small and quite manageable, but later on they challenge even the most mature mind. At least three of these puzzles have had me scratching my head for a significant amount of time before finally cracking the sequence. Without a doubt, the puzzle aspect of A Crack in Time is at its peak for the series.
Ratchet remains mostly unchanged from the Tools of Destruction era, but has one fast new addition to his gadgets line-up in the form of "Hover Boots". Almost self-explanatory, they allow Ratchet to quickly fly over the ground and water at an extreme rate of knots. As such, the pace of A Crack in Time is much quicker than Tools of Destruction and Quest For Booty. There are entire sequences on Planets and Moons that revolve around absolutely nailing a quick passage of hover jumps and platforms to reach new heights and secrets.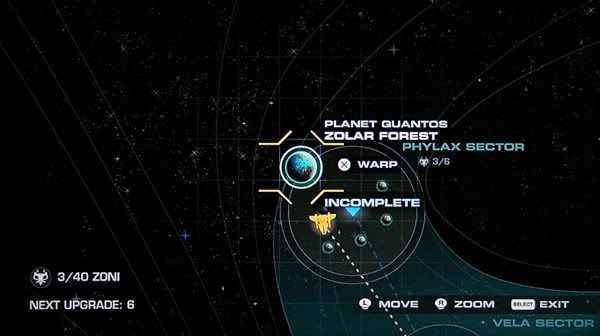 The all-new Galactic Map
The biggest change to the series this time around has been the ability to fly freely between sectors. Where in past R&C games you got a simple cut-scene while moving between worlds, now you have a full star-map at your disposal. Each sector can be flown in your ship – and there's a completely new space-based combat game play element introduced.
Your ship can now be upgraded by collecting Zoni scattered throughout the systems, allowing more powerful thrusters, advanced weaponry and thicker armour plating. You will need it too as you are regularly encountering enemy vessels and doing side-missions for the local races.
Apart from a couple of new weapons, Ratchet's arsenal is much of the same as we've seen thus far. The famous 'Ryno' gets a makeover in the form of the new 'V' iteration, but the show-stealer is absolutely the Chimp-O-Matic. Has to be seen to be believed. Most weapons can now be customized though, allowing you to add ammunition and power modifications, found throughout the worlds. You can even paint and colour them to your tastes. Its impressive and enjoyable personalisation.
Your ads will be inserted here by
Easy Plugin for AdSense.
Please go to the plugin admin page to
Paste your ad code OR
Suppress this ad slot.
In a similar angle to Clank's new time slow ability, Ratchet earns the 'OmniSoaker', his new game play gadget. The OmniSoaker has the ability to suck up liquids from around the worlds, from water to oil – and nectar for those pesky foes with a sugar-tooth. Ratchet is now faced with having to cool down super-heated platforms, or oiling rusted gears in order to progress.
A Crack in Time builds on what we've already seen in the Future tangent of R&C. For the most part, its all welcome additions, but I can't help feel there could have been more of them. Essentially its still Tools of Destruction with a lick of paint and a couple of new gimmicks.
This isn't a bad thing obviously. The game play is still incredible, its still hilariously funny in sections and the name of the game is still 'fun', so if you enjoyed ToD, you'll undoubtedly find the same satisfaction in CiT.
Graphics & Sound
As we've come to expect from Insomniac, its another solid outing for the developer in the graphics department. Loads of colour, vibrant backdrops, vivid details and SO much more action on screen at the same time. Its incredibly intense and an absolute visual treat.
They've managed to keep that sensational "Pixar" tone to the game, while at the same time expanding the horizons of all R&C games, especially by taking us into a 'free-space' environment. Its a superb new dynamic and without a doubt one of the standout elements of A Crack in Time.
There are some areas where the presentation looks a little lower-res than we're used to, particularly after Tools of Destruction – but for the most part, its only when you're up close to edges or water that its really noticeable.
Again, there are loads of different environments, plenty of unique backdrops to wander around in. The highlights being the jungle sections and the gorgeous Krell Canyon. Dr. Nefarious' influence in space station architecture is fantastic as well.
Weapon effects are amazing. Once you see the Ryno in action, or the Buzz Blades at full-tilt, you can't help but smile. Its all remarkably satisfying in an innocent and comical way. The power behind the series is alive and well in the weapon effects department, though I am missing the Predator Launcher!
The sound is also top-notch – excellent voice talent from all the main characters, to ambient noises on planets and in deep space. There are terrific dialogue sequences presented in full rendered mini-movies that you'd have been happy going to the cinema to see.
Conclusion
It is impossible not to enjoy the latest in the Ratchet & Clank saga. Everything we have come to expect from Insomniac is realised. It goes beyond the envelope in its execution, graphically and game play. There's plenty of humour, loads of action and some mouth-watering cinematics and eye-candy.
One slight downer though, is unfortunately A Crack In Time sometimes feels more like Ratchet or Clank, rather than Ratchet & Clank. While the story has been done brilliantly, while it all ties in neatly and keeps you on the edge of your seat right 'till the end credits, it just seems like a little tiny something was missing throughout most of my first ~14 hour play-through. And that little something is Clank on my back.
I guess it leaves me wanting more. Again!