Your ads will be inserted here by
Easy Plugin for AdSense.
Please go to the plugin admin page to
Paste your ad code OR
Suppress this ad slot.
Once you hit the track though, you see where the last 5 years has gone. Each car feels different. Each has its own subtle handling differences, grip levels, traits and abilities. Some cars get squirrelly under braking, others start fishtailing under acceleration. Some are complete beasts requiring the most accurate finesse with the throttle and brakes, others are so sorted they virtually drive themselves. For the first time, the physics and handling feels absolutely spot on.
I've never felt so at home behind my Force GT wheel, enjoying just cruising around a track in a little 33HP Kart, or a 100HP Honda – or strangling a Bugatti Veyron around the corners of the N'Ring, thrashing a Mazda 787B down the endless Mulsanne straight at LeSarthe. Risk reaps reward. Throw a car into a corner too fast, snap some opposite lock and power out of a slide. Drifting actually seems possible with the wheel now too.
There's so much feel. You can feel the weight of cars with heavy steering and stiff suspension. Every twitch and bounce of the car is relayed to you through the force feedback. Get some wheels off the ground coming over a blind crest and the steering goes completely light – then almost snaps the wheel out of your hands as they find grip again upon landing. The cars react to the ripple strips, shake and slither as you power over kerbs at London in a 458 Italia – and you wind on more and more lock to counter the understeer in your old Mercedes-Benz 300SL.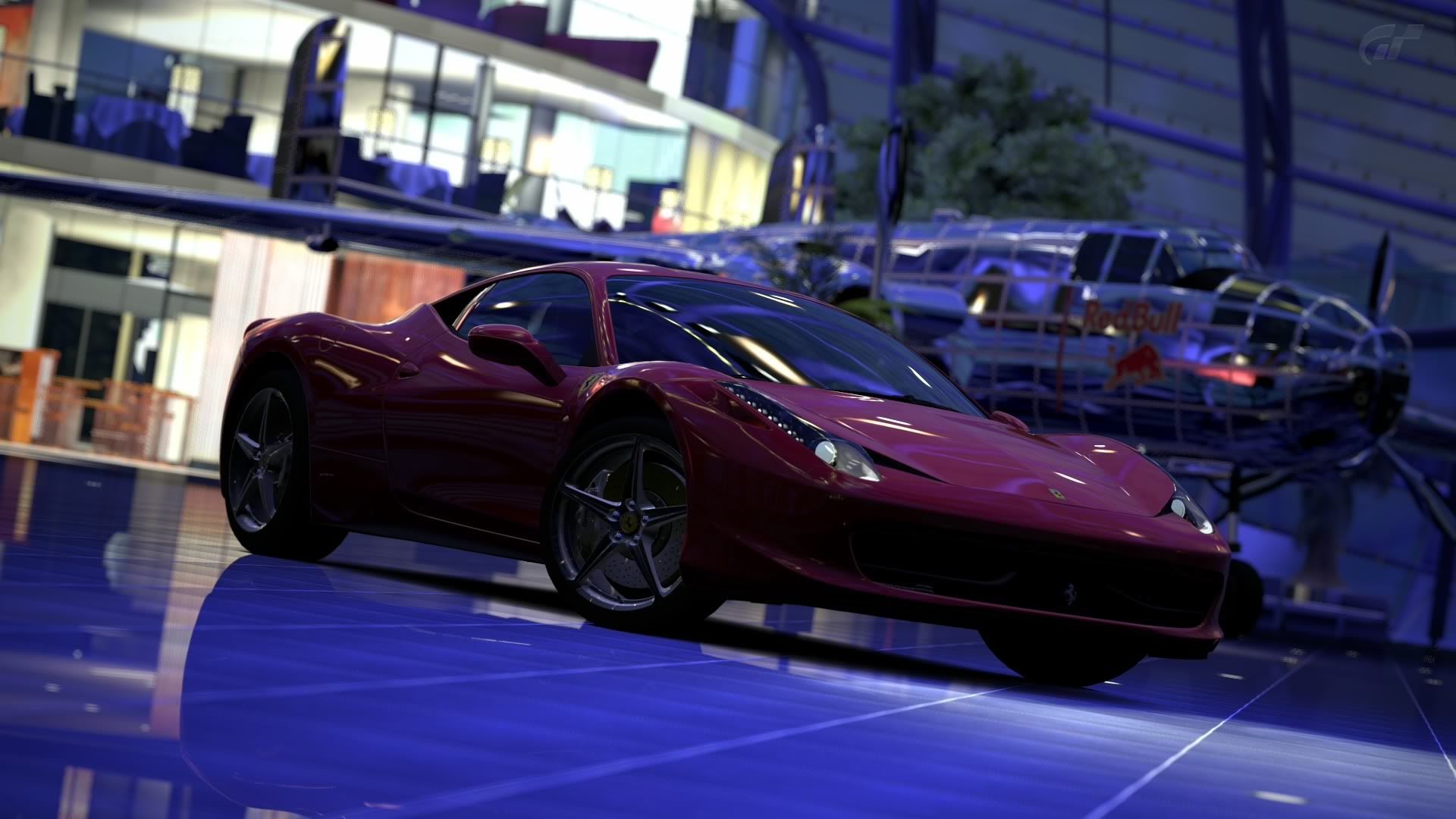 It is an absolutely joyous experience.
You can watch all of your antics, your perfect and not-so perfect laps in race Replays. From here you can view it like a movie, or pause and bring up the Photo Mode options to capture that awesome drift or save. Sadly, fast-forward and rewind are gone from GT5, so you have to be quick if you want to capture that moment, or start again right from the beginning of your replay. Annoying if your 'moment' is on lap 10. And you miss it.
You can even compare your telemetry, showing you clearly where you could go faster, where you're on the brakes too early, on the throttle too briefly.
Online functionality is, thankfully, completely solid. From GT Home, you have access to Community, which is a Friends List of sorts. From here you can check out and compare your Friends' progress, collected cars, favourite photos and more. Additionally, you can set up your own lounge, or join a Friends' lounge and get into some online racing.
Public Lobbies are easy to find – and with the exception of day one niggles, have been solid since. Mic support is perfect, lag is minimal. A huge, welcome improvement over GT5 Prologue.
Finally, all of your classic modes, arcade, time trial etc. are still available from the main menu as well, with full online Leaderboards for times and drift trials. There's a good selection of cars available if you just want to jump straight into racing. Or if you were on board with GT PSP, you can import your entire garage over and use those.
Your ads will be inserted here by
Easy Plugin for AdSense.
Please go to the plugin admin page to
Paste your ad code OR
Suppress this ad slot.
Graphics & Sound
The biggest visual disparity in GT5 is the difference between Standard and Premium cars. Standard cars use (mostly) untouched GT4 assets. In Gran Turismo 4 and back on your old standard definition television, they looked fantastic. In GT5 though, they do – sometimes – begin to look horribly dated. The closer you look the worse it gets obviously. And there's the lack of modelled interiors for driving.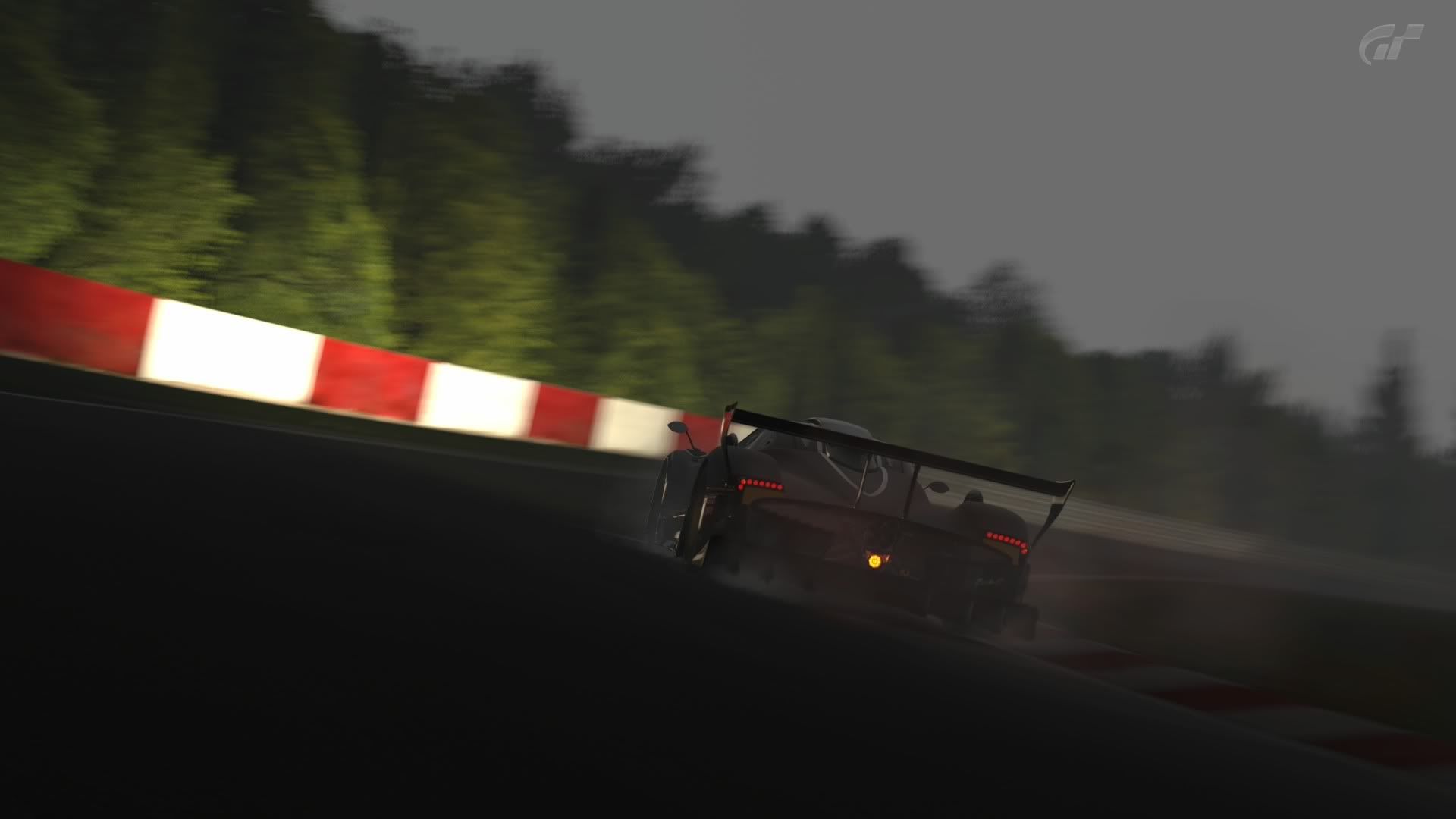 Photo mode prevents you from zooming up to a Standard car like you can with a Premium. Justifiably so, as there's no detail to be had up close but jagged edges, flat textures and rough pixelation.
On track it's a different story though. And unless you're up really close, swapping paint, or really trying to look for the last-gen quality, you honestly won't see it. Whipping by a Standard car in your Mazda 787B Stealth car at 345km/h, you just don't care either.
Premium cars are a whole 'nother story. These cars are the most authentic, intricately detailed and fantastically modelled vehicle recreations we have ever seen in gaming. There are over 200 of them and each has to be seen to believed. Every nut, bolt, texture, subtle nuance of its real-life counterpart is faithfully recreated, inside and out. And it is bliss. Interior race cam is superb. Photo mode does even more justice. They are jaw-dropping brilliant. Windscreen wipers are functional, headlights, high-beam, interior dashboards light up at night. Superb.
The damage model evolves as your driver level increases. Premium cars exhibit the most thorough levels of damage later on, whereas Standard cars will only ever see basic scuffing and deformation. As of writing this, I am at driver level 22 and already I'm seeing bent panels, wings and crumpled metal work.
Tracks exhibit some visual disparity. There are some barely changed assets, particularly in flat wall textures and 2D backdrops (and I'd be slaughtered by some if I didn't mention the 2D trees). The Nurburgring Nordschliefe has undergone a massive overhaul though and looks incredible. Many tracks have improved massively, some only marginally, but generally there is improvement all round.
Rain effects are immense, particularly in the premium cars from interior view, as you struggle to see through frantic windscreen wipers, water mist from 4 cars in front of you. A night/day cycle has also been introduced for GT5, which also impresses.
There is a concerning 'pixelation' exhibited around the edges of cars surrounded by tyre smoke or water trails. Again, it does nothing to affect the racing, but it does ruin some potentially epic Photo Mode shots.